Specialization course for users of Machinery Health Manager predictive software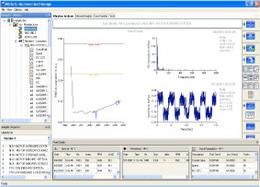 PRE-7131 Specialization course for predictive software users CSI Machinery Health Manager, supports CSI 2130 analyzers collectors.
Duration:
7 hours
Schedule:
De 09:00 a 13:30 y de 15:00 a 17:30 h.
Price:
€ 550.00 per person (excluding IVA)
Call:
Under plant demand
Zaragoza,November 17, 2017.

Trainers:
Mauricio Quintero, analista de vibraciones ISO -18436-2 CAT III.
Description:
The course will cover areas of configuration, defining and setting alarm levels for different types of machines as well as resolution of the most common questions from practical examples.
Goals:
The objective of the course is to provide the user of this software analyst of dignóstico predictive skills to deliver an advanced use of this powerful tool for predictive diagnostics. Additionally describing and explaining the new utilities MHM version 5.3.
List of topics:
Development of a master database of faults associated with symptoms. RBMWizard and failure frequencies.
Practical Procedures and criteria for selection of measurement points.
Definition of analysis bands by machine type. Electric motors. Pumps. Fans. Compressors. Gearboxes.
Criteria for calculating and setting alarm levels. Alarms band envelope and statistics. AutoStat.
Setting Alarms for machine type.
Optimizing the use of reports and RBMView module.
Administration and MHM application utilities. Tips for everyday use.
Resolution of common questions.
Procedures PREDITEC Technical Support.