Ultrasound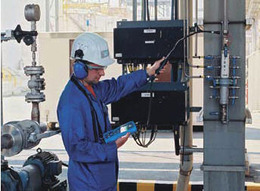 Predictive maintenance is applied to ultrasonic mechanical and periodic reviews of air pressure circuits.
This service offers in the following ways:
Comprehensive service mechanical measurements and predictive diagnostic ultrasound - Pre -7006
For monitoring conveyor bearings and mechanisms. The predictive technique based on the measurement and analysis of ultrasound allows monitoring of bearings and gears, including those that operate at low loads and speeds of rotation.
Comprehensive service and predictive diagnostic measurements using ultrasound leak - PRE -7015
For the detection of leaks in compressed air circuits or other pressurized gases , vacuum leak detection , leak testing on doors and hatches , monitoring of valves and steam traps .
Access the form of ultrasound technology selection and allow a little guidance on the best solution for their applications.
Additionally, you can find many helpful resources such as videos, software testing and items:
Article : Maintenance pedictivo for the masses
Video : Air Leak Detection
Software Testing: Software UAS
Article : Graphic procedure for the diagnosis of steam traps
Article : Guidelines for air leak detection in industrial installations