Vibration data collector PRE5050M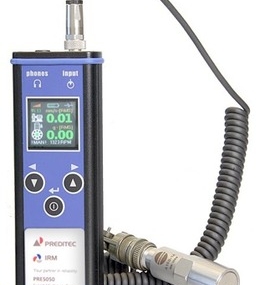 The portable collector for PdM, PRE5050M is the most complete, economic and simple system to set up the PdM in your plant.
Description
This portable vibration data collector combined with the predictive software PRE5050SW, let us to monitor vibration levels, bearing status, temperature levels, rotation frequency, and spectrum and wave analysis.
This is a user-friendly tool for taking vibration measurements and monitoring of the general condition of the rotating machinery.
The equipment includes a standard vibration sensor, an infrared sensor to measure temperature and a strobe led to measure shaft speed. This collector system together with the predictive software, is a perfect technological base to the PdM set up package: PrediPack Starter.
Features
Input: 1x ICP® powered accelerometer
Input range: 60 g PEAK with standard 100mV/g sensor (e.g.600g PEAK for 10mV/g sensor, the sensitivity is editable in the unit)
Measurements:
Velocity RMS 10 - 1 000 Hz [mm/s, ips]
Velocity Peak 10 - 1 000 Hz [mm/s, ips]
Acceleration RMS 500 - 16 000 Hz [g]
Acceleration Peak 500 - 16 000 Hz [g]
Velocity time 1 - 1 000 Hz [mm/s, ips] 2048 samples *
Velocity spectrum 1 - 1 000 Hz [mm/s, ips] 800 lines
Acceleration time 1 - 16 000 Hz [g] 2048 samples *
Acceleration spectrum 1 - 16 000 Hz [g] 800 lines *
Acceleration Demod-Envelope RMS 500 - 16 000 Hz [g]
Acceleration Demod-Envelope Peak 500 - 16 000 Hz [g] *
Acceleration Demod-Envelope time 500 - 16 000 Hz [g] 2048 samples
Acceleration Demod-Envelope spectrum 500 - 16 000 Hz [g] 800 lines, range 400 Hz *
Displacement RMS 2 - 100 Hz [μm, mil]
Displacement 0 - Peak 2 - 100 Hz [μm, mil]
Displacement Peak - Peak 2 - 100 Hz [μm, mil]
Temperature non-contact measurement 0 - 380°C (32 - 716°F)
Further functions:
LED stroboscope (0,17 - 300 Hz, 10 - 18 000 RPM)
LED torch, non-contact temperature measurement vibration stethoscope
Memory: 4 MB for data, 900 measurements of 800 lines spectra or 2048 samples time signals may be stored
Data storing (option): Off-Route Route with DDS 2014 software for Vibrio M (free download)
Interface: USB 2.0 compatible
Software: DDS 2014 software for Vibrio M (free download)
Display: colour graphic OLED display 128 x 128 pixels, diagonal 1,5" (38mm)
Output: 1x AC signal 8 Ω / 0,5 W for external headphones (signal listening)
Power: 2x AA 1.5V batteries (alkaline, NiMH, Lithium - 8 hours operation)
Temp: Operating: -5°C to 55°C Dimensions: 150 x 60 x 35 mm
Weight: 330 g including batteries (without cable, sensor and magnet) 540 g including batteries, cable, sensor and magnet
Accessories: vibration sensor, coiled cable to connect vibration sensor, magnetic base for vibration sensor, headphones with 3.5 mm jack, USB cable, measuring tip for manual pressure on the sensor, transport case, CD with the manual