API 670 machinery protection by vibration made simple
11/23/2010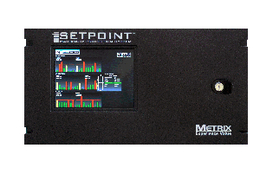 Preditec/IRM presents the new standard for Vibration Monitoring PROTECTION on industrial rotating machinery.
Preditec/IRM shows the SETPOINT by Metrix Instruments to simplify to the limit the protection and monitoring of critical machinery.
The main advantages of Setpoint are:
Complies with API 670.
Up to 60 or 90 channels for vibration and temperature in one module.
Integrated touch screen.
Easy access to the measured data.
Connectivity with other monitoring systems such as PI.
Dinamic signal data export.
Lower cost of technology.
Lower operation and maintenance.
The SETPOINT Machinery Protection System is a rack-based continuous machinery monitoring platform designed to fully comply with American Petroleum Institute Standard 670 for machinery protection systems. Up to 56 vibration/ position/speed channels or 84 temperature channels can be monitored and displayed in a single 19" rack. The system measures and alarms on shaft radial vibration, axial thrust position, casing seismic vibration (both velocity and acceleration), temperature, and shaft rotative speed. All necessary monitoring functionality is provided using only four basic module types, simplifying spare parts requirements.
Metrix's design approach to the new SETPOINT system places an emphasis on simplicity for configuration, connectivity, maintenance and ease of use.