Specialization course for predictive software users EMONITOR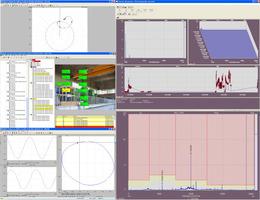 Duration:
7 hours
Schedule:
From 9:00 to 13:30 and 15:00 to 17:30 h.
Price:
550,00 € (IVA not included)
Call:
Under plant demand.
In our offices: Zaragoza, November 13, 2017.

Trainers:
Conult info@preditec.com
Goals:
The course will cover areas of configuration, defining and setting alarm levels for different types of machines as well as resolution of the most common questions from practical examples.
List of topics:
Development of a master database associated with symptoms of faults and fault frequencies.
Practical Procedures and criteria for selection of measurement points.
Definition of analysis bands by machine type. Electric motors. Pumps. Fans. Compressors. Gearboxes.
Criteria for calculating and setting alarm levels. Alarms band envelope and statistics.
Setting Alarms for machine type.
Optimizing the use of the reporting module.
Administration and EMONITOR application utilities. Tips for everyday use.
Resolution of common questions.
New support procedures IRM.